Host a House Concert!!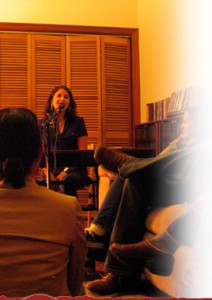 "How are we ever going to top this? Our guests are still calling in to thank us for hosting the event. Home Run." – Tom, CA
"It left my heart so happy that I could not go to bed right away. What a beautiful evening…" -Peta, MD
"That evening of music last night will lift my chin, leave tunes in my head to hum, lighten my load for days and weeks to come." – Scott, MI
How does it work?
YOU PROVIDE THE HOUSE. (It does not have to be a big one – cozy is good!)
I PROVIDE THE MUSIC.
It's pretty simple:
*Invite 30-40 or more of your music-loving friends and family to your house.
(ie. 15 -20 people with a guest)
*Set the ticket price around $15 (other donations welcome). If the host prefers to
cover the costs, that can be arranged as well.
*Provide snacks, drinks and comfortable seating…have fun with this!
You can make it a potluck, wine and cheese…anything.
*I will come do a special set of songs and stories for about an hour and a half
(1 or 2 sets) and stick around to sign CD's, t-shirts or challenge anyone to a game of
ping-pong.
You are welcome to open the show to the public and advertise in the local paper
or college radio station, or, you can keep me all to yourselves. As long as there is
a minimum of 30 people (max. as many as your house can hold) who want to
hear the music- I'm happy. Can't wait to play you some of the new material
and connect in the intimate setting with you, your friends, family and neighbors.
THANK YOU FOR YOUR CONTINUED SUPPORT.
I HOPE TO SEE YOU IN YOUR LIVING ROOM!!
*Watch this link for more information about HOUSE CONCERTS:

Fill out the form below for more information about hosting an intimate special acoustic concert. Limited availability.





WHAT PAST HOSTS' HAVE TO SAY:
"Thank you for gracing our humble home with your awe-inspiring voice!
That is not an exaggeration; I think everyone who hears you sing (and play)
is blown away."
"All the joy you brought to everyone yesterday is priceless."
"THANK YOU, THANK YOU, THANK YOU! WOW!!! I think that
everyone at our house on Tuesday night was blown away by your performance!
They just keep going on about how great you were – But sincerely, I can't tell you how much I appreciate you taking the time out of your schedule to come up to our house and sing for is. It was a real thrill, and we feel extremely fortunate to have had you at our home."
"You completely blew us away last night. The show was one of the best performances I've EVER been to. I really mean it. You're fantastic."
"I just wanted to say thanks again for playing at our party last night. You were AMAZING and I really believe in you. You have such charisma and musical talent."
"Kat, absolutely fantastic, stupendous, extraordinary concert Sunday night. What a treat—thank you for a lovely way to end a nice weekend. I also appreciated your taking the time to meet, greet, and sign after your set."
"Once again, you wowed 'em with your performance! What a great show! We had a great time last night and the crowd loved you. Thanks again for sharing your talents and putting on such an amazing show."
"I have heard nothing but positive comments today and all our spirits have been elevated! You have an amazing talent. Thank you for sharing it with everyone."
"Thank you so much for coming and doing the show. You gave an absolutely *wonderful* performance and I am 100% pleased with how everything went! It was an honor to have you!"
"Thank you for gracing our home with your awesome music and presence. Your lyrics and songs are so amazing and reach into the listener's heart – your voice is gorgeous- that range!! The "package" is complete with your sincere, real, delightful, funny dialogue that engages the audience and brings us in, in such an intimate way."
"Everyone at the concert raved about you and your music and your talent."
"I just wanted to tell you what a joy it was to hear you sing last night. I'm glad I was able to share your fabulous music with friends."
"You are an amazing musician and I can honestly say I've never seen anyone have as much fun on stage as you. I'm truly very inspired by you and love your music and lyrics."
"That concert you put on made a wonderful memory. It was a very spiritual concert and I like the way you interact with everyone. I also was touched by your music in a special way, it's not easy to put that into words but I trust you know what I mean."
"Thanks for the invitation to the concert tonight. We had a great time! Please tell Kat she is awesome and I really appreciate her coming to San Antonio."
"Thanks for a wonderful performance. It was great how you mingled in with the crowd and included them in the show – that was truly fantastic. A wonderful performance and I can't wait until the next time!"
"Thank you for the wonderful job you did at our open house. Your presence and performance were the highlight of our celebration. I know from talking to friends especially the ones with teenage girls have said to me your CD has played non stop since the party."
"You were beyond wonderful last night; thank you. I love your voice. beautiful tone, loads of emotion and intelligence."